Solid Soft touch feeling varnish for Silkscreen paper coating
Model No.

CH-22408

Made in

Taiwan
The best solution to replace soft touch film
Spec
Style:Liquid Coating
Use:Paper Coating
Key Features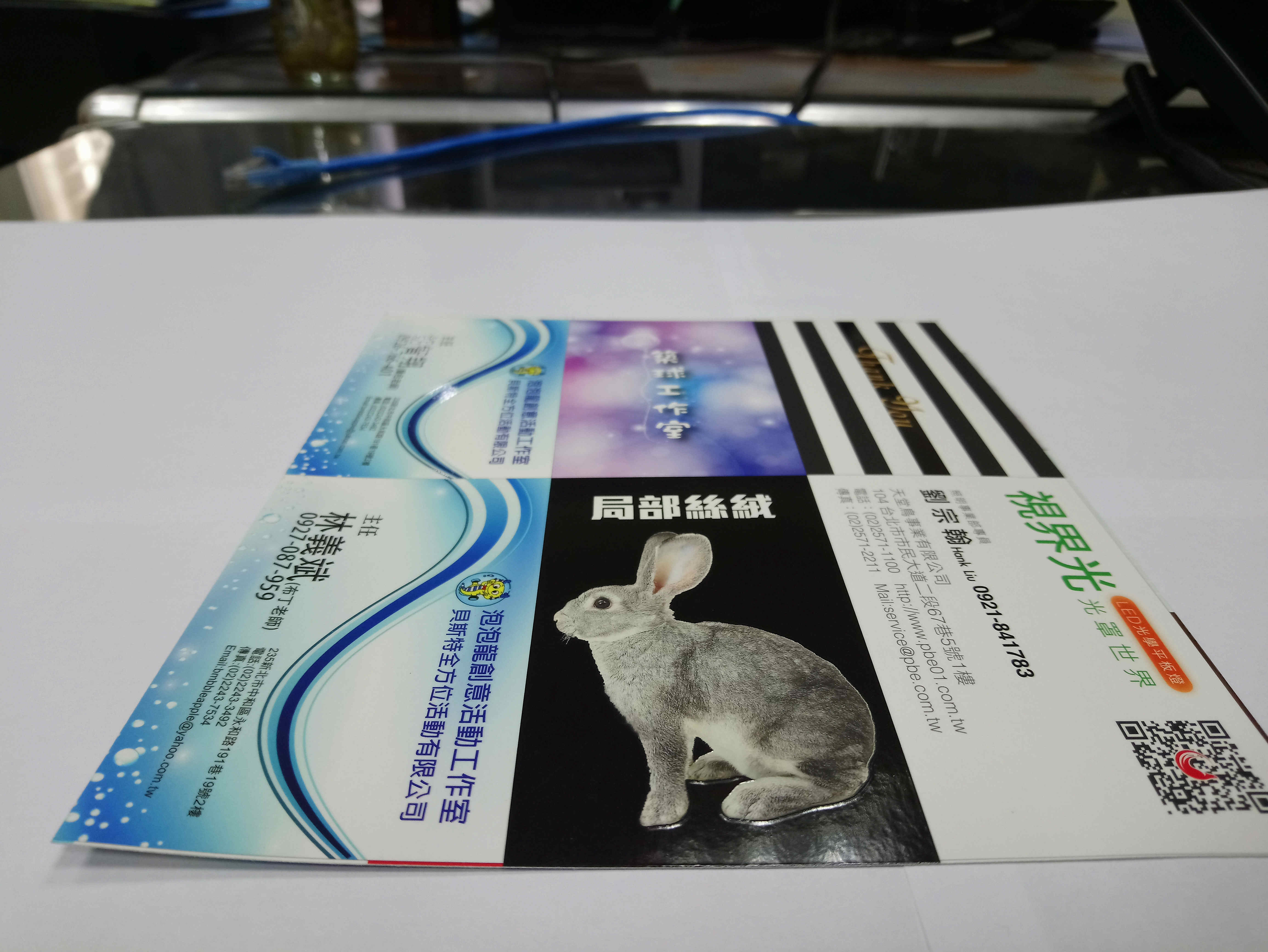 Solid soft touch feeling to compare with soft touch film , strong bonding between paper and varnish , our customer usually applied at Red envelope or business card , this is the best solution to replace soft touch film with lower cost .
Specification:
Composition :Special polymer water base dispersion
Viscosity(cps/25℃) :2000 ± 500cps
Appearance :Milky white liquid
Solvent :Water
Solid content(%) :35 ± 5%
pH :8.0± 1
Odor :Slight ammonia odor
1 .Water-base overprinting varnish for Silkscreen coating
Application & Test:
1 .Process:
CH-22408èPrint machine coater roller coating
èUse short wave inferred light(100℃/2sec)
2 .Film Special property:
(1)Good matt
(2)Adhesion with printing ink
(3)Abrasion resistance
(4)Good Leveling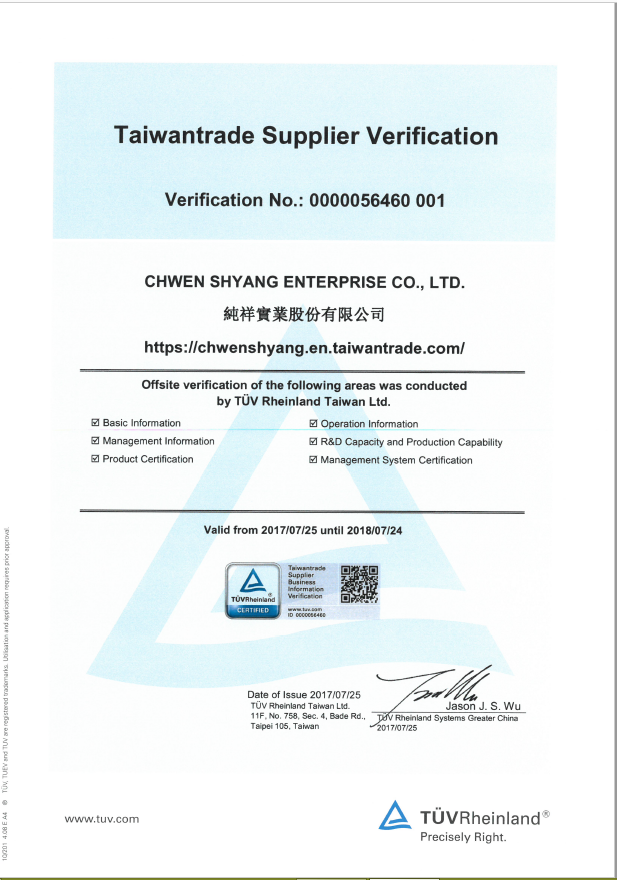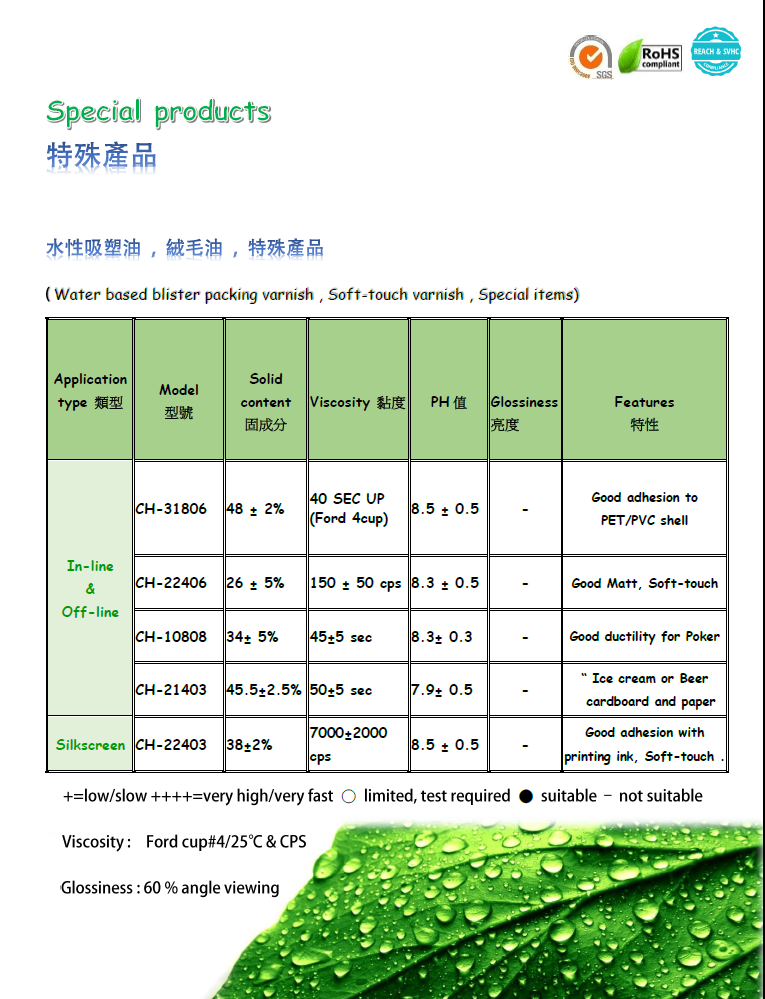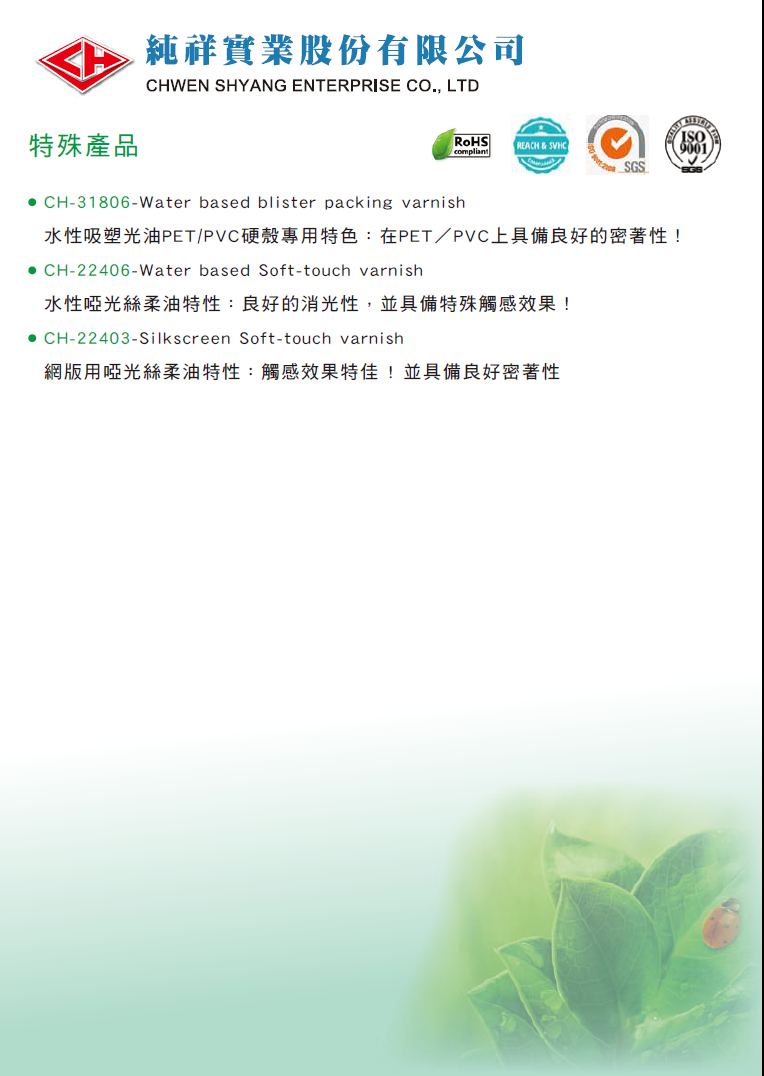 FAQ
1.Q: Are you a factory or trading company?
A: Yes, we are one of the most professional manufacturers for overprinting varnish for printed paper substrates, includes different products line, Water based resin ,Solvent based resin, UV resin.
2.Q: How can I get some samples?
A: We are honored to offer you samples by express.
3 Q: How does your factory do regarding quality control?
A: Quality is the priority. We always pay much attention to quality control from beginning to end.
-----------------------------------------------------------------------
General questions for Water based resin
Q1: Why we can find the "White point" on surface ?
A: There are too many factors have lead to fail mirror surface , such as the paper too rough , varnish too thin , varnishing speed too high, too many powders when it printing , roller's rubber too old to use…etc.
Solution: Please build the varnish up , slow down the speed and change the new rubber for operate more smoothly.
Q2 : Why not gloss after varnishing ?
A: Please raise up the temperature for iron board (more than 100 degree ) and pressure more than 125KG/CM2 , add up more varnish or change iron board for improving.
Q3: Blocking paper
A: Please keep down the temperature and slow down the varnishing speed to improve volatility too fast.
Q4: Why Ink spread out after varnishing ?
A: You can varnishing after confirm the ink already dry , change the solvent or keep down the pressure of varnishing machine.
Why Choose us ?
High Quality---- Quality Raw Material, Advanced Facilities, Fine Procedures.
High Productivity
Fast Delivery
Leading Level R & D Department
Experienced Marketing Manager
Professional Design Department
Accept OEM & ODM
Excellent After-sales Service
---
You may also like
Recommendations
---
Small Order Recommendation